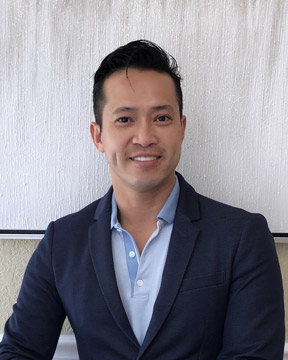 Tuan Tran, Clinical Pharmacist
"Patients shouldn't have to rely on conventional methods of restoring and optimizing health. We can use a natural approach more effectively. There is a big, growing need to explore this type of treatment and I believe it will go mainstream-to our FIRST line of treatment."
Passionate about keeping people young and healthy, Tuan Tran founded Dr. Phillips Specialty Pharmacy (DPSP) to inject creative problem-solving into the field of pharmacy. He became a pharmacist because he saw a big need in the field-and a way to work with doctors to save lives and contribute to society.
Tuan received his BS in Pharmaceutical Sciences from the Massachusetts College of Pharmacy and Health Science in Boston. While working in national drugstores, he saw that merely dispensing pills didn't fully solve patients' health problems. He also saw the general public becoming smarter about holistic health. Part pharmacist, part visionary, Tuan decided to put his insight, knowledge and expertise to better use.
The old way of treating patients doesn't apply. Patients are unique; one solution doesn't fit all. Alternative care requires creative ideas. You must treat one patient at a time."
Tuan's patient-centered thinking quickly received validation from the Orlando market; DPSP grew to five Central Florida locations in four years.
Considered a creative problem-solver and a source of reliable advice, Tuan often works on complex health issues with both patients and doctors to create individualized solutions. As a result, DPSP has earned the community's trust for crafting quality formulations and a reputation for serving as a clinical data center. Tuan and his staff work synergistically with doctors to fill in the gaps and get answers for patients with stubborn problems. These include:
Hormone restoration
Women's health
Men's health
Children's health
Erectile dysfunction
Alternative pain therapies
Skin conditions
Veterinary medicine
Weight loss
Hepatitis B & C
HIV
Urology issues
"My work is most rewarding when patients call me up and say, 'I sleep better now. I have better sex now. I am more energetic now.' People use traditional medicine for common complaints and it doesn't work. We tweak their hormones and it works."
As one of the few pharmacists in the Orlando area certified with a Sterile Compounding Permit, Tuan is able to compound injectable formulas, IVs, eye drops, nasal sprays and other intricate formulations. This rare designation allows him to flex his creative muscle and create innovative, individualized solutions for patients.
Due to the personalization inherent to the service, compounding requires exacting standards. Tuan' s passion for quality and accuracy led him to develop proprietary software that minimizes prescription measuring errors. To ensure his own rigorous standards are met, as DSPS grows, he hand-picks his pharmacists from the most competent and compassionate candidates.
Tuan lives in Central Florida with his wife and three growing boys. He's a fishing fanatic and health freak who frequently works out at the gym and prioritizes family time above all else.
Would you like Tuan to speak to your audience about anti-aging, hormone health or specialty compounding solutions for health issues? Contact him at here.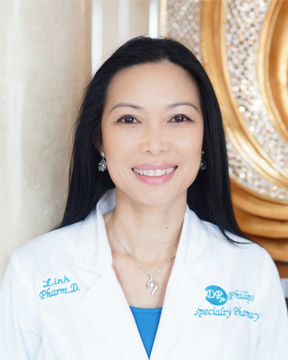 Dr. Linh Pham is the senior clinical pharmacist. Linh received her Doctorate degree from Massachusetts College of Pharmacy in 2003. She worked for retail pharmacy for 13 years and, during her time there, she began to shift her focus from retail to compounding medicine, in which she has 8 years of experience. She is responsible for developing clinical and educational initiatives designed to optimize drug therapy in hormonally imbalanced patients. Linh has completed extensive training in compounding formulations and quality assurance. She has also participated in studies evaluating both the quality of patient care and techniques for reducing medication errors. Additionally, she serves as the lead go-to person for complex clinical cases. On her days off she goes to the gym and spends time with her husband and 3 growing boys.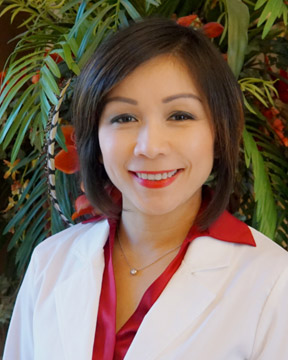 Dr. Michelle Nguyen received her Bachelor's degree in Biology from the University of Maryland in 1999 and a Doctor of Pharmacy degree from Massachusetts College of Pharmacy in 2004. Prior to becoming a pharmacist, Dr. Nguyen was a clinical cancer researcher at the National Institute of Health in Bethesda, Maryland. After receiving her PharmD degree, she worked for Walgreens as a pharmacy manager for HIV Center of Excellent as a certified specialist in HIV and diabetic care for 15 years. Wanting to combine her experience in research and clinical pharmacy, Dr. Nguyen went through rigorous training to be certified as a compounding pharmacist. She treats her patients to the best of her abilities. Dr. Nguyen now also specializes in bio-identical hormones, dermatology, veterinary medications and pediatric compounding. Dr. Nguyen keeps patient wellness as her top priority. She will go above and beyond her duties to ensure excellent patient care. Dr. Nguyen not only is passionate about promoting health and wellness but also affordability to her patients. She also finds a way to provide her patients the medications they need. In her spare time, Dr. Nguyen volunteers as a Clinical Assistant Professor for University of Florida mentoring pharmacy students. Dr. Nguyen enjoys going to the gym, running marathons and volunteering at community events.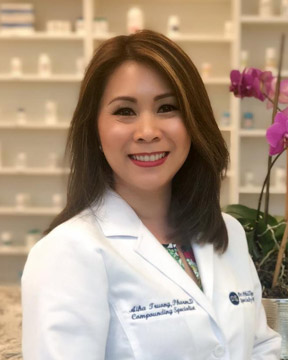 Dr. Aiha Truong received her Doctorate degree in pharmacy from Massachusetts College of Pharmacy in 2002. She practiced in a retail setting as a pharmacy manager for 15 years before joining Dr. Phillips Specialty Pharmacy in 2014 at the Mills location. She is a compounding specialist and specializes in antiaging bioidentical hormones, urology, dermatology, and veterinary. Dr. Truong treats her patients as family, she is compassionate and professional. Her patients feel comfortable and secure in her care knowing she is one of the best in her field. She values the privilege of helping her patients, while joining them in their medical journey to restore their health and youth. She is dedicated to providing her patients with high quality and successful treatment therapies. In her spare time, Dr. Truong enjoys traveling, painting, cooking, and spending time with her family and friends.